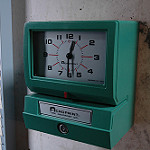 New Overtime Rules Halted by Federal Judge
Nov 2016
Advocacy Update
On Tuesday, November 22, Judge Amos Mazzant, a federal judge of the U.S. District Court for the Eastern District of Texas, issued a preliminary injunction that temporarily halts the new overtime rules. They will not take effect this Thursday, December 1.
Judge Mazzant's decision follows a lawsuit filed by the governors and attorneys general of 21 states arguing against the Dept. of Labor's authority to implement these rules. The states also argued that the rules would be harmful. The new regulations would increase the salary threshold for employees entitled to overtime compensation to $47,476/year. This threshold would automatically update this threshold every three years beginning in 2020 based on national wage growth.
According to Judge Mazzant, "A preliminary injunction preserves the status quo while the court determines the department's authority to make the final rule as well as the final rule's validity." The judge will hold a hearing soon to consider whether to make this injunction permanent and the Department of Labor is expected to file an appeal.
We are aware that many of you have taken steps to prepare for the implementation of these new regulations and we will keep you updated as we learn more about this situation. We refer you to these resources to learn more about the ruling: