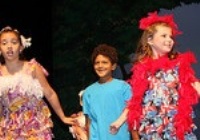 Federal Funding for Arts Education
Background on Arts Education Advocacy
Assistance for Arts Education
The Assistance for Arts Education (AAE) program at the U.S. Department of Education is authorized under Title IV of the Every Student Succeeds Act (ESSA). It continues the programs previously authorized under the Elementary and Secondary Education act as the "Arts in Education" program:
Arts Education Model Development and Dissemination

Professional Development for Arts Educators

National Grant Competition
The Department's arts education programs have received consistent, annual, bipartisan support from Congress. In FY 2016, Congress approved  $27 million for the Arts in Education program, a $2 million increase, making possible a new round of competitive grants.
Over the past several years, Congress has continued to increase funding for Arts in Education. In 2021, PAA member groups asked Congress for $40 million in assistance for Arts Education programs.
Every Student Succeeds Act 
The Every Student Succeeds Act (ESSA) became law in December 2015, re-writing the federal education law known as "No Child Left Behind (NCLB)." ESSA aims to provide all elementary and secondary students with fair and equal opportunities to achieve a high quality education, and the law includes several provisions ensuring the opportunity for students to access arts education. The U.S. Department of Education and state departments of education are currently producing new federal regulations and state accountability plans to implement ESSA. Education leaders in Congress have pledged to provide oversight as each state sets new directions with expanded responsibilities.
A major change in the law is that while NCLB listed the "arts" as a "core academic subject," ESSA instead lists the "arts" and "music"–alongside reading, math, and a host of other subjects–in the federal definition of a "well-rounded education."
FY22/23 information and current "asks" will be updated soon. 
What's at Stake
Although the Performing Arts Alliance keeps you up-to-date on federal advocacy opportunities, remember that your advocacy at the state and local levels will make the critical difference in increasing support for arts education in your community. The most important education policy decisions are made at the local level, in your community, by your state legislators and school boards.
The best advocate for arts education is you: the artist, the staff member, the audience. Use our Action Alert to send a message to your federal lawmakers in support of federal policies that will provide a complete arts education for every child, in every school.
Back to top
What We're Asking For Right Now
Please check this page frequently for updates to FY22 and FY23 funding.
Back to top
Archive
Looking for older information on this issue? Please visit the Archive