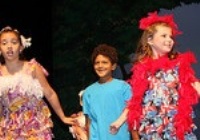 Senate Passes Education Law Rewrite
Jul 2015
Advocacy Update
On July 16, the Senate passed the "Every Child Achieves Act (S.1177), its version of legislation to rewrite the Elementary and Secondary Education Act (ESEA). ESEA is the federal education law that funds primary and secondary education. The law aims to provide all students with fair and equal opportunities to achieve a high quality education. It was last reauthorized in 2002 as "No Child Left Behind."
The Senate's bill contains several "wins" for arts education. It encourages partnerships between schools and nonprofits for educational programming, it authorizes federal funds for spending on programs that may include the arts, and it acknowledges the importance of the arts by defining it as a core academic subject. Here are a few of those wins:
It creates a new Literacy and Arts Education program.
PAA advocated for the retention of the Department of Education's Arts in Education program as a distinct grant competition.  The final bill includes a section titled  "Literacy and Arts Education," (Title 5, Part H Sec. 5801). It allows the Secretary of Education to "award grants, contracts, or cooperative agreements, on a competitive basis, to eligible entities for the purposes of:
promoting arts education for disadvantaged students and students who are children with disabilities, through activities such as
professional development for arts educators, teachers, and principals;
development and dissemination of instructional materials and arts-based educational programming, including online resources, in multiple arts disciplines;  
and community and national outreach activities that strengthen and expand partnerships among schools, local educational agencies, communities, or national centers for the arts."
The definition of "core academic subjects" is retained, and it includes the arts.
The final bill defines "core academic subjects" as "English, reading or language arts, writing, science, technology, engineering, mathematics, foreign languages, civics and government, economics, arts, history, geography, computer science, music, and physical education," (Title 9, Part A, Section 9101). This makes arts education eligible for federal funding and gives the arts consideration in other programs authorized in the legislation. For example:
Targeted Assistance School Programs that aid students at risk of not meeting State academic standards can use Title 1 funds for "programs, activities, and courses in core academic subjects" to help students achieve (Title 1, Part A, Section 1113).
K-12 literacy programs must "integrate comprehensive literacy instruction into core academic subjects." For grades 6-12, funds must be used to assess the quality of this integrated instruction (Title 2, Part D, Section 2404).  
The 21st Century Community Learning Centers program is restored.
The final Senate Bill restores and authorizes the 21st Century Community Learning Centers Program which offers students "a broad array of additional services, programs, and activities" including the arts "that are designed to reinforce and complement the regular academic program of participating students," (Title 4, Part B, Sec. 4201).  
In January, when Sen. Alexander released his discussion draft of the bill–then called the "Every Child Ready for College or Career Act of 2015"–none of these three provisions were included. You spoke up for arts education and took action by responding to Sen. Alexander's discussion draft in January and contacting the Senate HELP Committee later in the spring. Scores of letters were sent to the Senate expressing the importance of the arts in a complete education; your advocacy efforts made a difference in seeing these provisions included in the final bill.
Schools are encouraged to partner with nonprofits and community organizations.
The bill permits local educational agencies receiving state funds to partner with other schools, community-based services and programs, and nonprofit organizations to develop "programs and activities that offer a variety of well-rounded educational experience[s] for students, such as those that use music and the arts as tools to promote constructive student engagement, problem solving, and conflict resolution," (Title 4, Part A, Section 4105).
Next, House and Senate leaders will meet to discuss each Chamber's version of ESEA reauthorization to develop a bill to present to the President to sign into law. We will keep you updated on the status of the legislation while it is in conference.