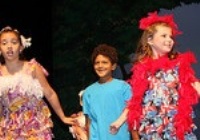 Senate HELP Committee to Consider New ESEA Draft
Apr 2015
Recent Activity
This is an important week for arts education in the Senate! The Health, Education, Labor, and Pensions (HELP) committee is considering a draft bill (the Every Child Achieves Act of 2015) and amendments to update the Elementary and Secondary Education Act (ESEA), our nation's education law. The arts community wants the arts to be ensured a place in every child's education in the new ESEA.
Arts education is at stake in this draft bill: it does not include funding for the Arts in Education program at the U.S. Department of Education, nor does it include funding for the 21st Century Community Learning Centers program which funds afterschool and summertime learning programs which include the arts. Fortunately, it does retain the definition of core academic subjects including the arts! This is a win: this designation makes arts education programs eligible for federal funding such as Title I. 
If your senator serves on the HELP committee, he or she needs to hear from you this week.