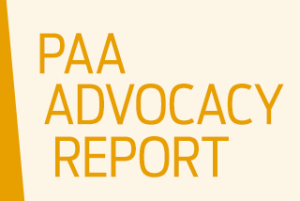 March 2018 Advocacy Report
Mar 2018
Advocacy Update
A bill to make the artist visa process more reliable and affordable was re-introduced in the U.S. Senate yesterday by Sen. Orrin Hatch (R-UT) and Sen. Patrick Leahy (D-VT). An effective visa system supports the power of music to communicate across differences, express and animate the issues of our time, and advance international diplomacy and our democracy.
The Performing Arts Alliance, along with our arts advocacy partners have long advocated for this relief because groups of all budget sizes engage artists from across the globe to partner with U.S. artists in performances, education programs, and the development of new artistic works. The Arts Require Timely Service (ARTS) Act, S.2466, would improve opportunities for international cultural activity by ensuring that U.S. Citizenship and Immigration Services (USCIS) will process the required O or P artist visas in time for performances.
Visa applications for artists often undergo long delays and extreme inconsistency by USCIS, forcing nonprofit U.S. arts organizations to pay for unaffordable expedited processing, or risk cancelling scheduled performers. Under the ARTS Act, USCIS would be required to provide expedited processing free-of-charge if a visa petition filed by, or on behalf of, a U.S. nonprofit arts organization is not processed within the timeframe required under current law.
We are grateful for the continued support and leadership of Sens. Hatch and Leahy, who said the following upon the bill's introduction:
"Utah's performing arts enrich our state and culture," said Sen. Hatch. "Unfortunately, when our orchestras and theater companies seek to host performers from other countries, they often run into delays and other problems with visa processing. This increases the cost of hosting visiting performers, and in some cases, can even lead to postponement or cancellation of long-planned events. The Artists Require Timely Service Act, or ARTS Act, will simplify visa processing for such performers so that our performing arts groups can have greater certainty as they seek to bring world-class artists to our state."
"The ARTS Act ensures that organizations like the Vermont Symphony Orchestra can tap global talent and fully engage in international cultural exchange without arbitrary and unnecessary government restrictions and delays," Leahy said. "Visiting artists enrich our communities, and it is high time that we create a permanent solution for this problem."
The Performing Arts Alliance, along with our partners including the League of American Orchestra, American Federation of Musicians, The Recording Academy, and an array of other national organizations, is calling on USCIS to take immediate action to improve the artist visa process.
View press releases from Senator Hatch and Senator Leahy
The first step toward passing this bill is to secure support from additional Senators. You can make a difference by asking your Senator to sign up to co-sponsor the ARTS Act!
Additionally, if you are a constituent of either Sen. Hatch or Sen. Leahy, please take a moment to thank them for their leadership in helping make it possible for arts collaboration to continue to thrive.