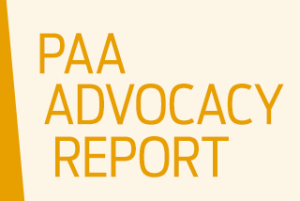 August 16, 2017 Advocacy Report
Jul 2017
Advocacy Update

The Performing Arts Alliance is hiring a part-time administrator! This position will support the activities of its Board of Directors and coordinate PAA's communications and operations. This is a remote position (Washington, DC-area applicants preferred) that requires 20 hours per week and occasional travel to NYC for board meetings.
About PAA: 
Mission: The Performing Arts Alliance (PAA) is the national policy advocate, leadership forum, and learning network for America's nonprofit performing arts organizations, artists, and allies.
Vision: The Performing Arts Alliance envisions a United States in which the diverse ecology of the performing arts is deeply-valued and supported, adequately and equitably resourced, and where participation is accessible to all (more).
Some job duties include:
Schedule, support, and document PAA's Board of Director meetings (three Board meetings per year between New York City and Washington, DC)

Schedule, support, and document Executive Committee phone meetings (one call per month, for 10 months each year)

In coordination with the PAA Bookkeeper and Treasurer, develop and maintain PAA's annual budget

Manage PAA's member dues quarterly payment schedule 
Click here for the full job description and application instructions. The deadline to apply is Friday, September 8, 2017.