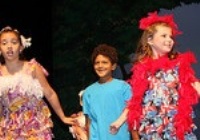 Arts Education Status Report Released: Equity Gaps Remain
Apr 2012
The U.S. Department of Education released the results of the Fast Response Statistical Survey's (FRSS) Report on Arts Education based on data gathered in the 2009-2010 school year. The arts education community has long called for federal data collection to be more comprehensive in scope and depth and that data be collected more frequently. While the FRSS report does not provide a complete picture of the status of arts education, it does provide some valuable new information and an opportunity to provoke a public conversation about arts education. The report presents national data in two areas:
The availability of music, visual arts, dance, and drama/theatre instruction in public elementary and public secondary schools, the frequency of instruction, and the availability of arts specialists to teach the subject;
The teaching load of music and visual arts specialists in public elementary and secondary schools, and the ways in which classroom generalists and other subject-area educators teach arts education as part of their instructional program.
Here are a few key report findings:
More than 90% of our nation's public elementary and secondary schools offer music and visual arts instruction. At the elementary level, that includes a majority of students receiving such instruction at least once a week by a certified art or music teacher. This is a strong testament to effective advocacy for arts education programs across the country during the onset of the recession and in the wake of reading and math accountability demands on public schools.
Six percent of the nation's public elementary schools offered no specific instruction in music and 17% offered no specific instruction in the visual arts. Nine percent of public secondary schools did not offer music, and 11% percent did not offer the visual arts. Only 15% of elementary schools offered music instruction at least three times per week, and 8% offered visual arts instruction at least three times per week.
Dance and drama/theatre are available at a much lower level of accessibility. Only 3% of public elementary schools offered dance instruction and only 4% offered drama/theatre instruction. The numbers in public secondary schools were higher with 12% offering dance instruction, and 45% offering drama/theatre instruction.
The percentage of schools offering arts education declines as the percentage of students eligible for free or reduced-price lunch increases. In other words, schools with a higher concentration of students in poverty are less likely to offer arts education. This is sobering news, just as a separatereportfrom the National Endowment for the Arts about at-risk youth underscores the significant academic, workforce, and civic engagement gains associated with high levels of arts exposure for youth of lower socioeconomic status.
The arts education community has been working to create a toolkit to help the broader arts community understand and communicate about the Snapshot FRSS results, and these tools will be available online soon. In the meantime, find the full report online and learn what kind of steps you can take to advance the status of arts education in public schools.